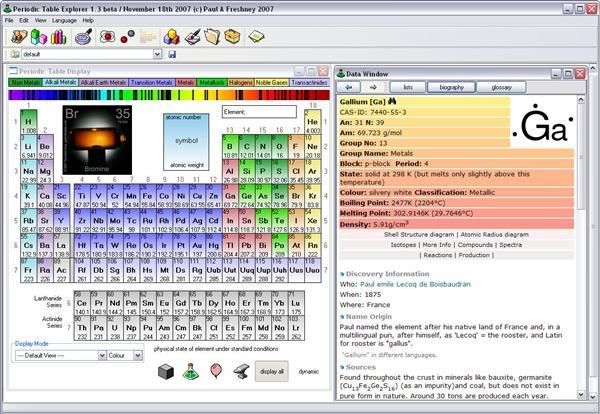 Periodic Table Explorer software shows you a new way of exploring the periodic table. Periodic Table Explorer has the same functions as my original Periodic Table software plus many more.Periodic Table Explorer also has a completely new and innovative user interface that allows an almost unlimited amount of control over the display. Each display can be opened any number of times, and can show different information. The size, shape and position of each display can be customised too.
The Periodic Table has two seperate search methods:

Method one allows you to search through all of the Periodic Table's content.
· Typing a single term such as hydrogen will bring up all the pages that contain the word "hydrogen".
· Typing in multiple search terms such as hydrogen england will bring up all of the pages that contain the word hydrogen or england. Pages that contain one of the search terms will be designated , pages that contain all of the search terms will be designated .
· Ticking the "all keywords search" checkbox will ensure that a search for multiple terms such as hydrogen england will only bring up pages that contain hydrogen and england.

Method two allows you to search for elements that have specific properties or combination of properties.
· Select a parameter, then select a test, then finally select the value you wish to check for.
· Selecting "Melting point", ">=" and 500 will find all those elements that have a melting point greater than or equal to 500K.
· By combining up to 5 sets of test you are able to select elements by a wide range of properties.

Here are some key features of "Periodic Table Explorer":
· Detailed information on each element
· Details of isotopes and allotropes
· Details of important compounds
· Details of reactions with water, air, halogens and acids
· Images for each element (126 images in total)
· Glossary
· Graphs of important element properties
· Biographies for the important scientists and element discoverers
· Interactive display allows you to view the states of the elements at any temperature (from 0 - 6000k)
· XP style support
· Search through all of the element, biography, isotope and glossary pages
· Electron shell diagrams of each element
· Atomic width diagram
· Element names and the majority of the applications buttons are now available in eight different languages. Unfortunately there is just too much text for me to translate (95000+ words).

Code :

http://hotfile.com/dl/1752324/e703c78/pt_portable.zip.html
http://www.easy-share.com/1905089349/pt_portable.zip

** kenapa time aku blaja dulu xde bende nih... ish ish ish~!